We're excited to welcome you back for the upcoming 2023-2024 academic year. In preparation for the new school year, explore the information on this page to ensure you are ready. Let's have a great year, FMS!
| First Day of School | School Start / End Times | Early Release Times (Every Monday) |
| --- | --- | --- |
| August 7-9, 2023: All teachers report back. | Preschool AM: 8:00 AM. Classes will end at 11:00 AM. See more below. | 11:30 a.m. at our elementary schools. |
| August 07, 2023: 1st year San Juan College High School students. Click here to view the full SJCHS calendar. | Preschool PM: 11:30 AM. Classes will end at 2:30 PM. See more below. | 12:30 p.m. at our middle schools. |
| August 08, 2023: 2nd year San Juan College High School students. Click here to view the full SJCHS calendar. | Elementary: 8:00 AM. Classes will end at 3:05 PM. | 12:10 p.m. at our high schools. San Juan College HS does not have early release days. |
| August 10, 2023: The first day of school for Kindergarten, 6th, and 9th grades. | Middle Schools: 8:30 AM. Classes will end at 3:45 PM. | |
| August 11, 2023: The first day of school for the rest of the grades. | FHS and PVHS: 8:00 AM. Classes will end at 3:15 PM. | |
| | Rocinante HS: 8:15 AM. Classes will end at 3:00 PM. | |
| | San Juan College HS: 8:00 AM. Classes will end at 3:00 PM. | |
Full-day at Preschool Academy West
Farmington Preschool Academy West now has a full-day preschool. Students will attend from 8:00 a.m. to 11:30 a.m. on Mondays, and from 8:00 a.m. to 2:30 p.m. on Tuesday-Friday. Three-year-olds will remain half-day with no school on Mondays. Their hours will be Tuesday-Friday: AM Session from 8:00 - 11:00 a.m., PM Session from 11:30 a.m. - 2:30 p.m.
Farmington Municipal Schools will provide school supplies for elementary and middle schools in 2023. Click here for a complete list of school supplies. Note: Some teachers may require supplies not provided by the district. Schools and teachers will make students and families aware of additional needed supplies. Also, at the high school level, a list of supplies should be given to students at the beginning of the year.
Free and Healthy Meals for All Students
FMS families, the district is thrilled to offer free healthy school meals to all students in academic year 2023-2024! Thanks to a recent change in New Mexico state law, FMS can now expand and continue serving delicious and nutritious breakfast and lunch meals at absolutely no cost. This means your students will enjoy tasty meals that fuel their learning journey every day.
But wait, we still need your support, families! If your student will be attending Country Club, Ladera, Mesa Verde, Heights, Hermosa, Farmington High, Piedra Vista, or San Juan College High, we kindly ask you to complete the free and reduced lunch application. By doing so, you're ensuring that your child receives the maximum support and benefits available. Click here to submit a 2023-24 meal application.
The Parent Portal is a central place where parents can access important information and resources like calendars, forms, payments, technology information, and health services, as well as transcripts, school meals, and student handbooks. Click here to see more.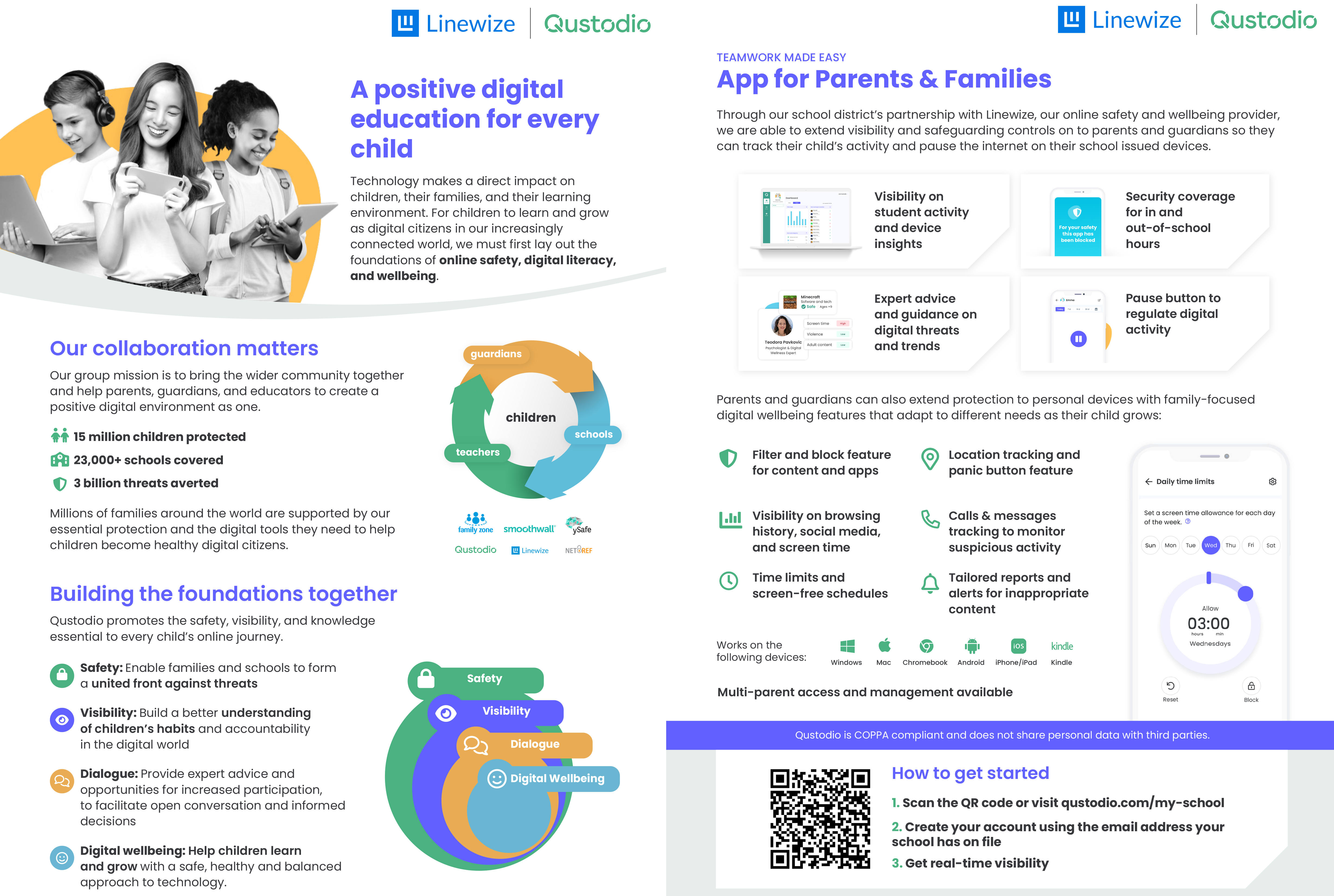 FMS families, just a quick reminder that the Qustodio Parents App, our student safety and digital wellbeing platform, is the perfect tool available for you as the new school year begins. From the app, you can:
Gain visibility and insights on how school devices are being used

Ensure your child's safety and well-being online after school hours

Pause internet access to balance your child's digital activity based on the parameters set up by the district

Receive expert advice and insights on online safety topics like cyberbullying, screen time, gaming, and trends

Parents and guardians can protect personal devices with family-focused digital well-being features that adapt to different needs as their child grows.
To get access, head to qustodio.com/my-school and create your account using the email address the school district has on file for you.
For any queries, contact us at myschool@qustodio.com. More information is available on our Online Safety page.
Parents of Farmington Municipal Schools (FMS) students and employees of the district are automatically added to our Parent Communication System (Apptegy/Thrillshare). FMS administration offices and schools use this system to send emergency notifications, delayed openings, school closings, attendance, outreach messages, and other important news, announcements, and reminders.
We have moved to a new web address! Find us online at FarmingtonSchools.us. FMS has also created two new spaces for students and families: The Parent Portal page and The College and Career Readiness page. Read more here.